Benny has summer holidays. His Aunt Rose comes for a visit.
One day, Benny and Aunt Rose go shopping. Aunt Rose has a bag.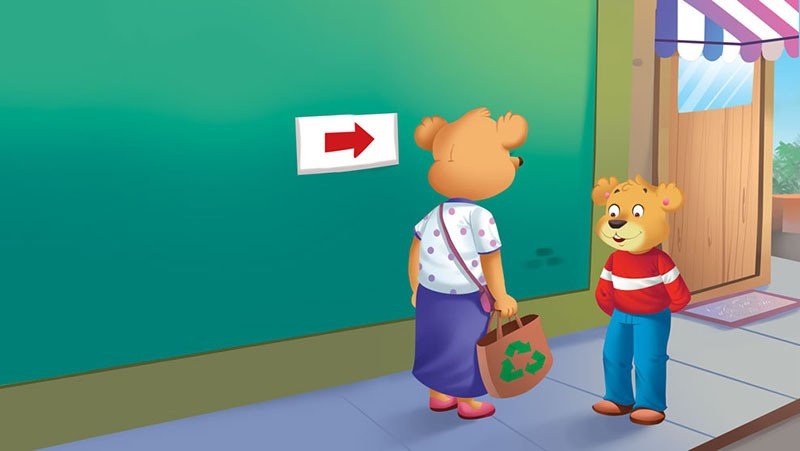 The bag has three green arrows forming a triangle. It is the symbol for 'Recycle'.
Aunt Rose is carrying a recycled bag. It is made from waste material.
"Recycle means to convert waste into usable material," Aunt Rose explains to Benny.
At the shop, Benny sees many items. Some of them have the Recycle symbol on them.
Aunt Rose buys recycled items to reduce waste.
On the way back, they see a Landfill Zone. "This is where all our garbage is dumped and buried," Aunt Rose tells Benny.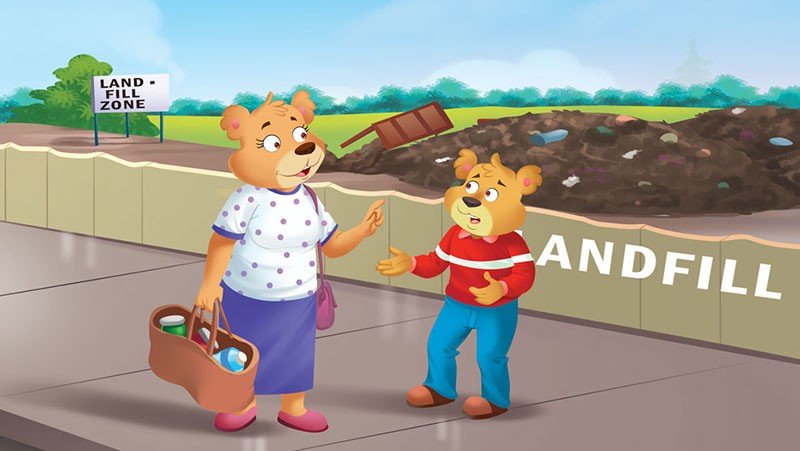 Aunt Rose says, "One day, there will be no land left to bury garbage. Recycling reduces the amount of waste sent to landfills."
Benny wants to learn to recycle. "I will teach you how to reduce, reuse and recycle," says Aunt Rose happily.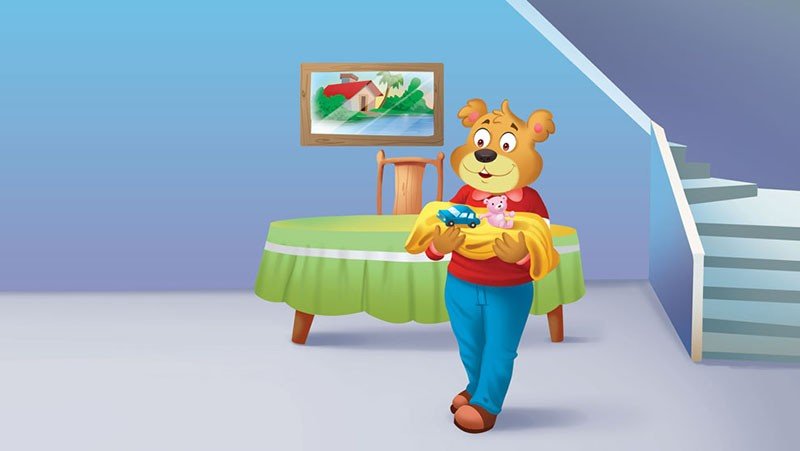 Benny goes about the house switching off lights, reducing the waste of electricity. Then, he collects his old clothes and toys.
Aunt Rose tells Benny, "These things would be reused by poor people."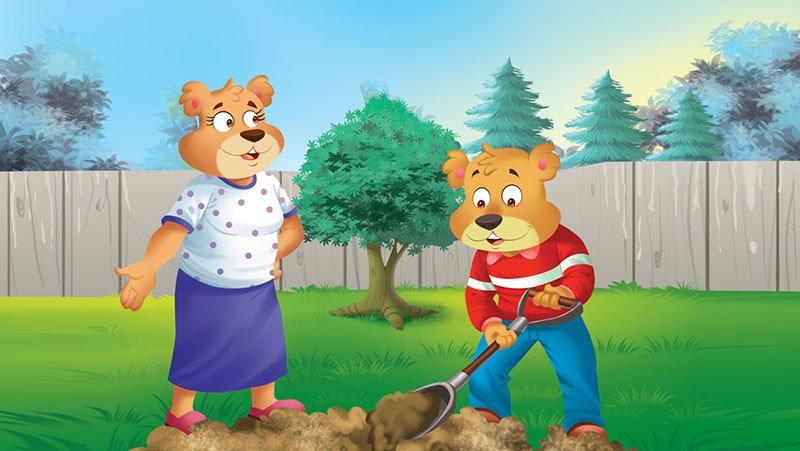 They go to the backyard. Aunt Rose makes Benny dig a large pit.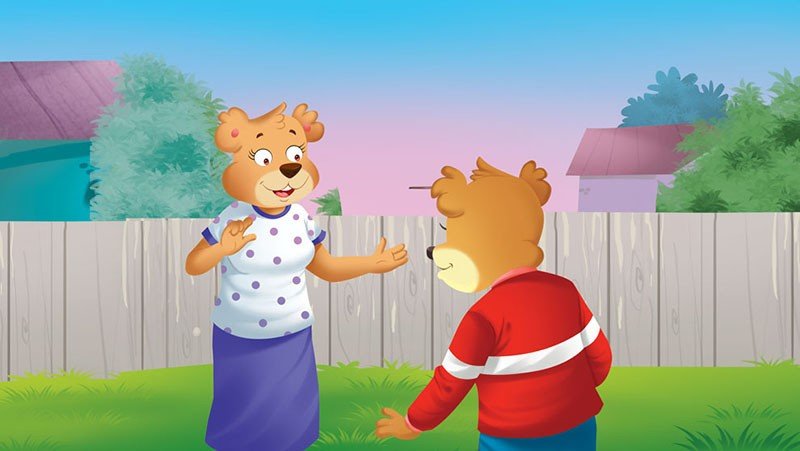 "You should throw left-over food, kitchen waste, dried plants and leaves in this pit," Aunt Rose tells Benny.
"And it would soon turn into compost, which can be used as manure in the garden." Benny is amazed to hear that!
Benny starts right away! He runs to the kitchen to get the kitchen waste.
Benny's mother is happy to see him collect all the fallen dried leaves in the garden.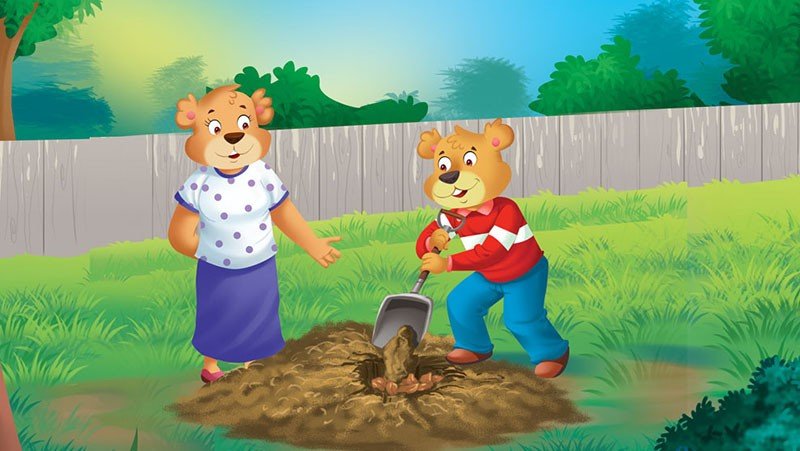 Soon, Benny's pit is full. They cover it with soil. Aunt Rose is pleased indeed!
Benny wants to recycle more! He collects empty bottles, cans, old newspapers and cardboard boxes.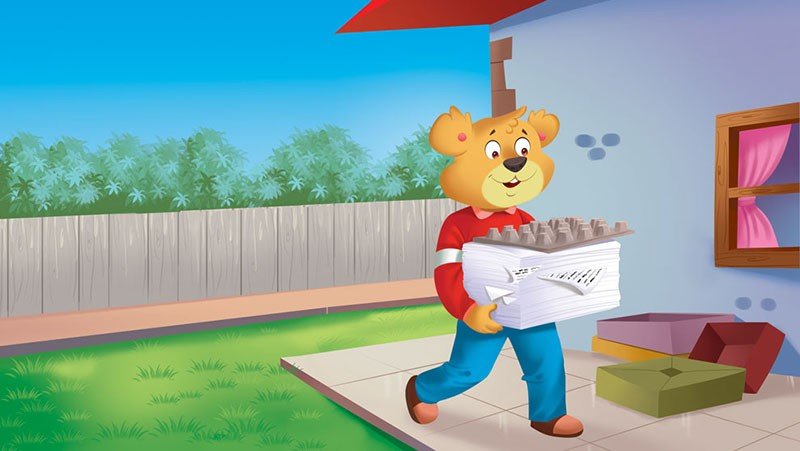 He gets empty shoeboxes, paper bags, egg cartons too. All these can be reused or recycled.
Benny grows flowers and herbs in old shoes, bottles and tins, using compost made from recycled waste!
Benny has learnt that less waste makes surroundings clean. So, we must reduce, reuse and recycle – to protect our environment.