Once upon a time, four sisters–Meg, Jo, Beth and Amy March–lived together with their mother in a small town of New England. Their neighbours called them the Little Women. Their father, Mr March, was away and served as a chaplain in the Civil War. While he was away, the hardship descended on the family. They had to rely on their mother, Marmee.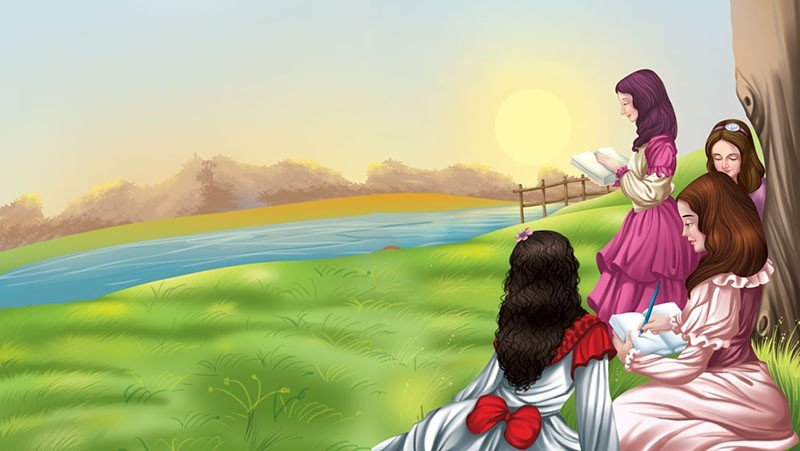 Meg was the eldest. She earned her living as the governess. Next was Jo. She was tall and tomboyish. She loved to write and spend all her spare time entertaining her sisters. Then, there was kind Beth. She was the homebody and helped her mother take care of the house. The youngest was curlyhaired Amy, a schoolgirl, who dreamt of becoming a famous artist.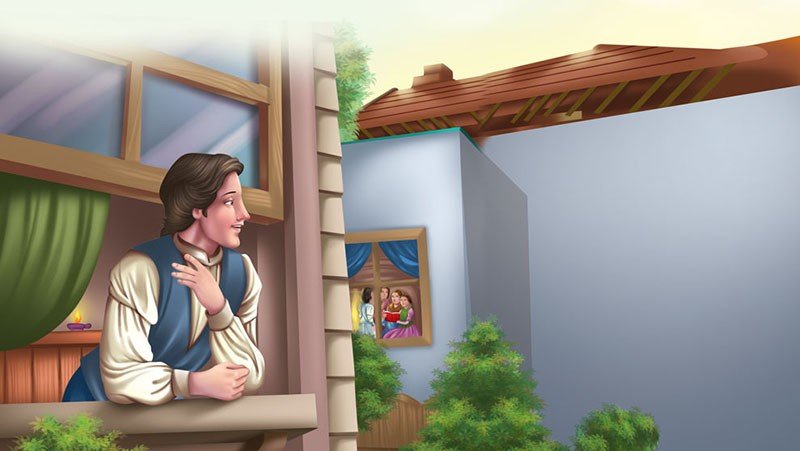 In their neighbourhood was the Laurence Mansion. There, young Theodore Laurence, known as Laurie, lived with his aged grandfather. Mr Laurence was wealthy, and fulfilled every wish of his grandson. Still, Laurie felt lonely. In the evening, when the lamps were lit in the March House, he could see the four sisters. They sat with their mother in the centre, ar ound a fire. He had learnt about them,before he met them.
It was Christmas. The Little Women's mother gave them a dollar to spend. At first, they thought of their own enjoyment; but finally, they bought a gift for Marmee. They also shared their Christmas food and old clothes with the poor Hummels family. The girls were rewarded for their unselfishness. Mr Laurence sent them a Christmas feast consisting of ice cream, bonbons and flowers.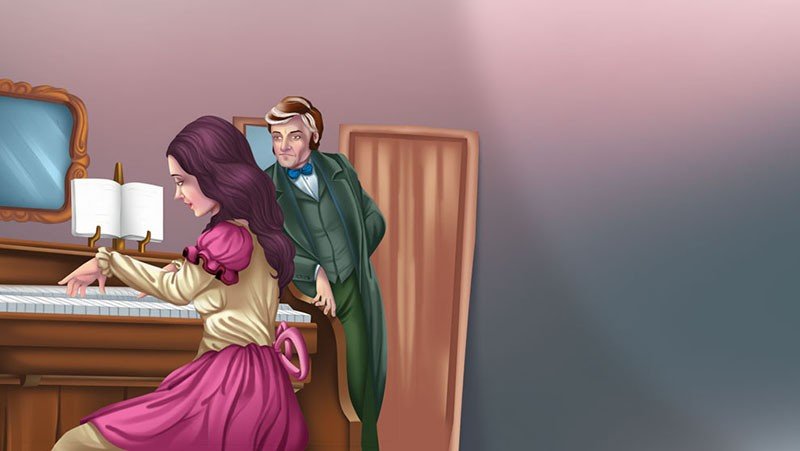 Laurie met Jo at a party and soon became a part of March family. All the sisters except Beth spent a lot of time at Laurence's Mansion. Beth was afraid of Old Mr Laurence. One day, Mr Laurence asked Beth to play the piano for him. When she did, it created a lasting bond between them. Old Mr Laurence also gave her a small piano that belonged to his deceased grand-daughter.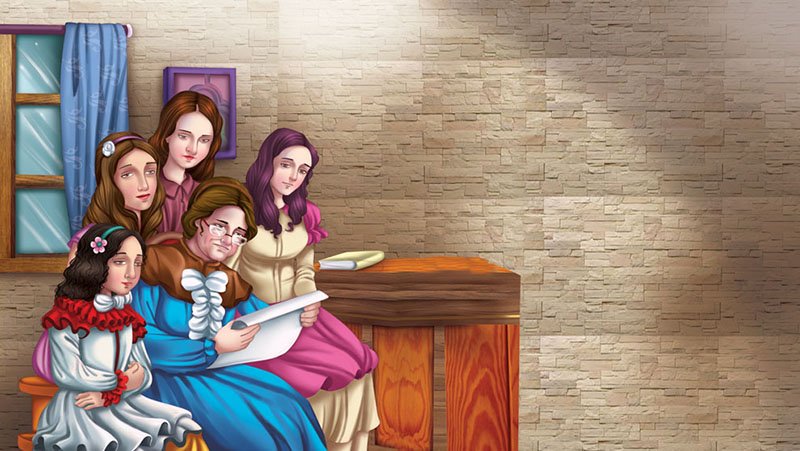 One day, a letter arrived from the battlefield. It stated that the Little Women's father had been wounded in the battle and was now in the hospital. Marmee was upset. She wanted to go but had no money for the ticket. Jo solved the problem by selling her long, beautiful chestnut hair for twenty-five dollars.
In Marmee's absence, the Little Women had to face tough times. Beth caught scarlet fever. Meg and Jo took care of her. They were afraid that they would lose their dearest sister. The Little Women sent for Marmee, but by the time she arrived, her little daughter was better. Mr March surprised them by returning home well and happy. The little family was together again.
John Brooke, Laurie's tutor, fell in love with Meg. He stole one of Meg's gloves and kept it in his pocket as a token of love. Laurie discovered the glove and told Jo about it. Jo was angry as she thought that the family circle would be disturbed. But after three years, Meg became Mrs Brooke.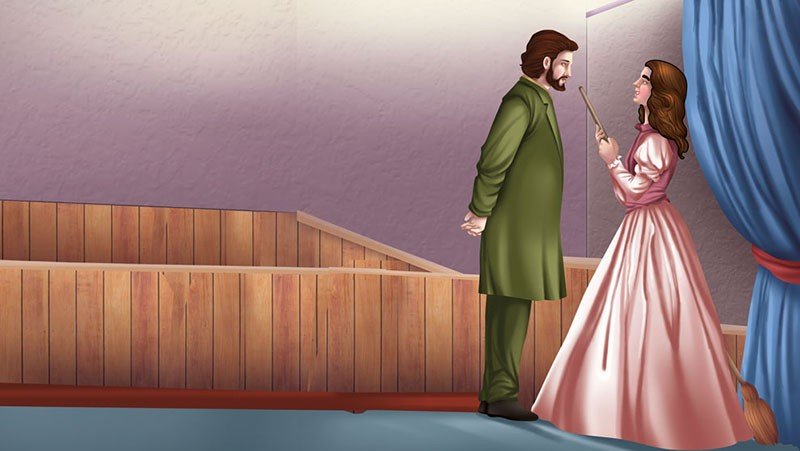 Jo had grown up. She took her writing seriously and even sold a few stories to help the family. She was disappointed when Aunt Carrol (their mother's sister) took Amy, instead of her, on a trip to Europe. Jo with Marmee's permission went to New York City and took a job as governess for Mrs Kirke. There, she met Professor Bhaer, the German tutor, who became a good friend and companion.
When Jo returned home, Laurie proposed to her. But Jo never wanted to get married. She wanted to devote herself to writing. So, she tried to convince Laurie that they were not made for each other. Laurie was upset and left for Europe with his grandfather.
In Europe, Laurie spent a great deal of time with Amy. They soon became very close friends. Laurie now started falling in love with Jo's younger sister, Amy. Laurie and Amy realised that they lacked the genius to be great artists. But they felt that they could make an excellent couple.
When Jo returned for the summer, she and Beth went to the beach and Beth revealed the feeling that shewould soon die. Beth was put in a nice beautiful room so that she might spend her last days with the things and the people she loved. Her illness worsened and in the spring, Beth died in Jo's arms.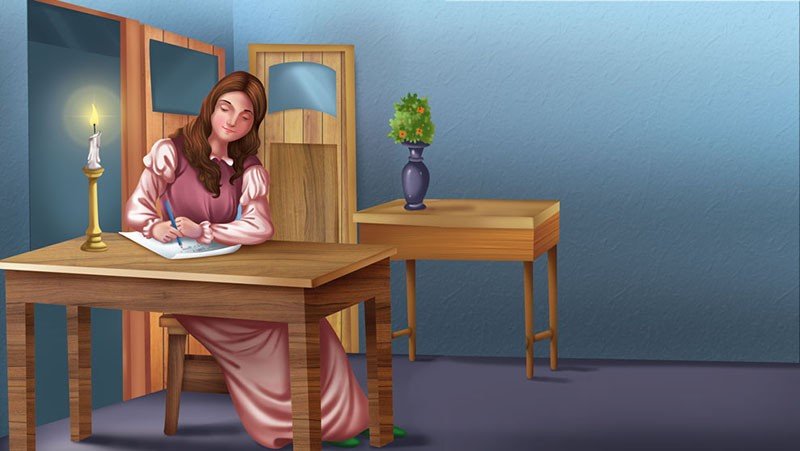 After the death of her sister, Jo felt very lonely. She tried to comfort herself with her writing and with Meg's two babies, Daisy and Demi. Amy was now married to Laurie and returned home.
Professor Bhaer was on his way to a university appointment in the Midwest. He stopped to meet Jo who was delighted to see him. One day, when it was raining heavily, they shared an umbrella. Professor Bhaer loved Jo and asked her to marry him. She accepted his proposal.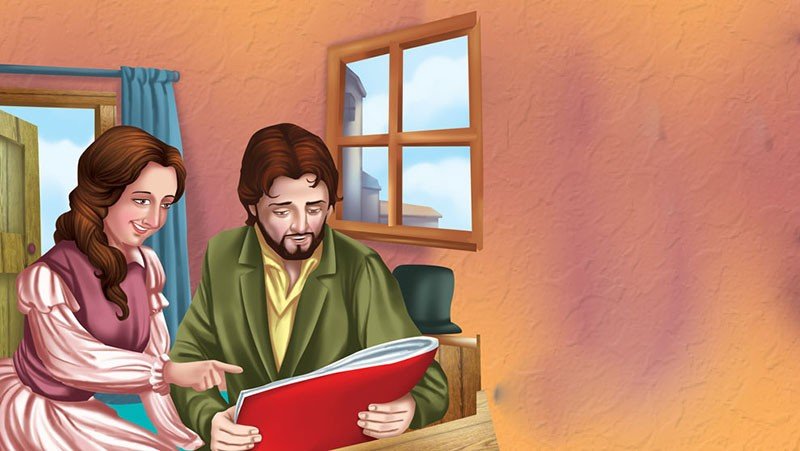 Within a year, the girl's old Aunt Carrol died. She left her home, Plumfield, to Jo. Jo decided to open a boys' school there. Professor Bhaer and Jo devoted their life to teaching the young children.
On their mother's sixtieth birthday, the Little Women had a great celebration at Plumfield. Around the
table, sat Marmee, her daughters and their husbands, and her grandchildren. When Laurie proposed a toast, Marmee stretched out her arms to all and wished that the present happiness continued for the rest of their life