Educational math games give children opportunities to learn and explore basic concepts such as adding, subtracting, multiplying, counting and computation. Math games for kids make them academically strong and socially active. Children get well aware of the "soft" skills which are required every day for the purpose of interaction.
It gives them the motivation to interact and make them confident. It increases the fluency and memory capacity of a child. Also, strategic thinking and problem-solving get easier.
Here, we've collected some of the best online math games for kids you'll find on the internet:
1. ABCya📊
This is a really good website because children can sort the online games according to their acumen. Children can switch their level up and level down as and when required. As a child goes up the level it gets more difficult and more challenging. Your children will love this website because they will keep on playing for hours and keep learning the facts and figures in a fun way.
There are also premium versions available for children. There are also free games of the week so you can visit the website as and when required. There are a number of videos and printable material available on the website. There are many games by subject like art and music games, language arts games, math games, multiplication games, science games, typing games, etc. There are games by theme like car games, cat games, animal games, story games, money games, etc. There are games by genre like Bingo games, crossword games, puzzle games, word search games, racing games, hunt games, This is one of the best free math games for kids you'll find on the internet.
Click here to go to the website.🚀
2. Education.com🌍
This is one of the favourite online math game websites across the internet. The games on this website are a little more challenging and advanced than others. Kids get to learn a lot without complaining. The "read-less" fun website is a good way to learn and polish up facts and figures for their overall growth.
This website is divided into worksheet games and lesson plans which makes it easier for a child to access the website. Which makes it a perfect math games for kids.
Children can Discover a limitless world of learning and review important concepts. Children can explore new topics and there are endless options. Children can browse 30,000 + worksheets, online games, lesson plans and many more.
Children can also browse the library. There are ready-made lesson plans which makes it easier for children and there are our classroom educator's and homeschoolers who provide meaningful instructions as a guide to students. There are printable worksheets that are available for children. This website contains educational math games which sharpen the skills of the children with addition pizza parties, learn letters with alphabet cloud catcher, and easily change study time into an adventure time every day.
Click here to go to the website.🚀
3. Prodigy Math🏆
This is a very famous website for math games. It is also used in classroom projectors by professors to explain the concepts in a fun manner. It is convenient to navigate. There are free options and paid options as well. The paid options are very well affordable. If the internet goes down you also have the option of playing in offline mode so they do not have to interact with other people over the internet whoever is online. It is a good way to get engrossed in the beautiful facts and figures and polish up your child's mathematical knowledge.
This is a website that can turn to learn into a quest for more fun and knowledge. You can buy a membership or you can even create a free account. Its mission is to help every student in the world
"love learning". This motivates students at all levels with Prodigy math games, an adaptive learning platform. It contains all in-game app content which is free for students and even for schools. It engages students because it includes a question and answer rounds. Children are motivated because they even get to earn rewards in the game. You can even visualise the progress of the students on this website with powerful tools for parents or any educator.
Click here to go to the website.
Read Also – 14 Best Educational Kids Board Games for K-12 Learning Fun (2022)😍🚀
4. Math Playground😍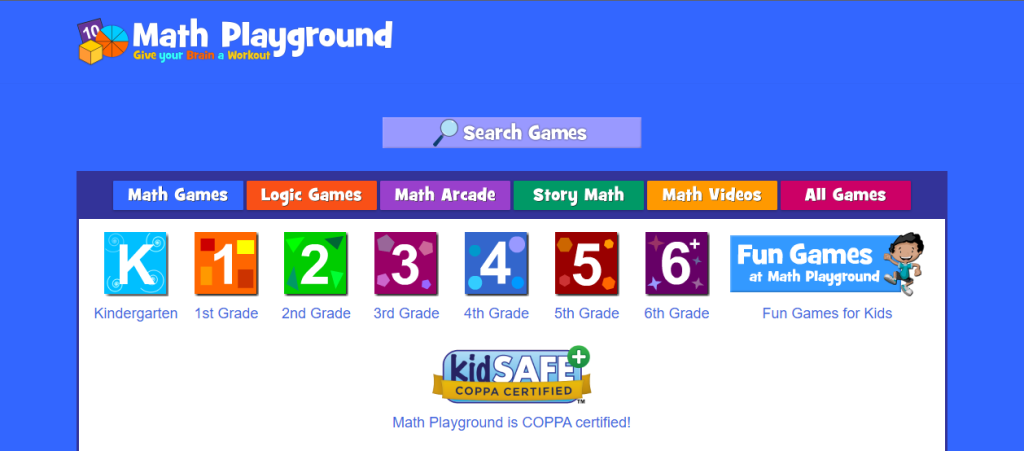 It is highly recommended by many people in local home school communities. It contains different levels which can be adjusted according to the acumen of a child. The slogan of this website says "give your brain a workout" which means your child will be busy in the most productive manner. There is brain training. There are math games, logic games, math videos, maths stories and many more games available on this website. It is a very good website to polish up your child's logical and problem-solving capacity.
The website is beautifully divided into different sections which include addition or subtraction in one section and multiplication, fraction, shapes and graphs, algebra, thinking blocks, robot games, multiplayer games, Find the pathway game, smart Arcade brainy games, animal and takes action games, perfect timing sports games, live games classical games, and racing games in other sections.
Click here to go to the website.🚀
5. Splash Learn💖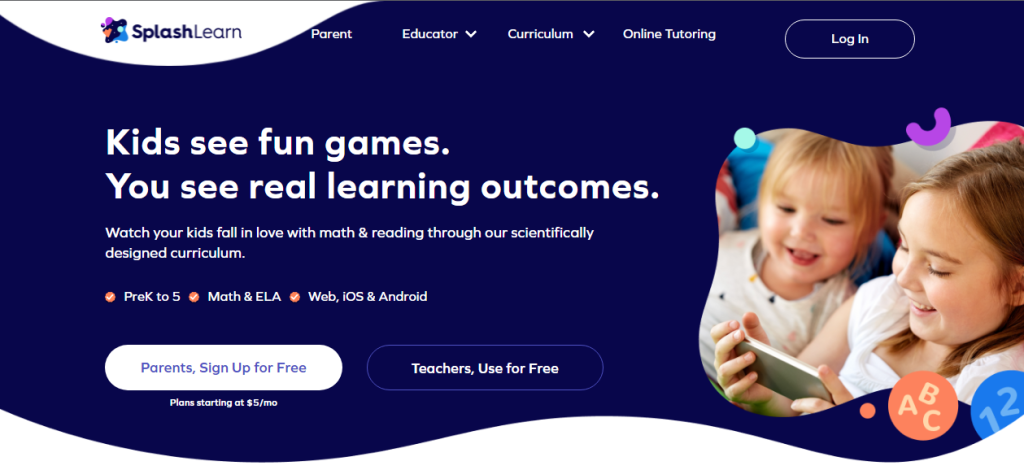 It is a very great website or resource for many families who stopped the rules for signing up are a little rigid for some of the families learning styles but it is going to be worth it. Parents and teachers sign up for free. This website is used by 40 million-plus learners. It is a learning experience for your child. There is a different section of maths and reading and you can switch according to your level. It is a joyful experience and it gives inspiration to many students to work harder. It is safe and easy to use for children and covers the curriculum. These free and fun math games for kids will make sure to make your child prepare for their school journey.
Click here to go to the website.🚀
6. Beast Academy👌
This Academy is an advanced comic-based math program website designed for students who are 6 to 13 years. You can get a one-year subscription. It contains a set of guides and many practice books which will polish up the mathematic skills of your children. The child will get confident in subjects like calculus.
It contains many illustrated books and teaches math concepts with a number of practice problems puzzles and games.
. It is designed by the Global leader and is a very engaging website with a rigorous math curriculum for elementary students. It focuses on mastery and not memorization. It is like a stack of problem solvers skills. It contains puzzles and many skilful games so students do not get out of content.
Click here to go to the website.🚀
CONCLUSION🎯
So, these are some of the best free and fun math games for kids to play online. Learning in the classroom can be boring because it just includes grabbing the facts and figures forcefully. Educational games, for example, math games are important for the progress of the students. It not only makes a child confident to participate in classroom discussions but also builds self-confidence and makes them socially and emotionally active. Mathematic skills and calculus become easier in higher levels because they do not have to Grab the figures and Facts forcefully but in a fun and adventurous way. Such games should be encouraged to increase the brain capacity of the students.
FAQs
What are some free math games?
We've mentioned some of the best and free math games for kids in the blog above. However, if you are looking for more, here you've got them- PBS KIDS Math Games,
MathGameTime, Get the Math, Fun Brain, Math Twister., Multiplication Touch., Math Tic Tac Toe.
How can I make my 6-year-old math fun?
For a 6-year-old kid, math can be a hard and confusing subject. However, you can make math learning fun by offering them some fun and exciting math games. Some of the best free math games for kids are offered in the blog post.
What are the top 5 cool math games?

Traffic Mania, Connect, Snake, Moto X3M, Down Is Up, are 5 best math games for kids.