In his book, Rammohan had compiled all the moral and spiritual teachings of Jesus Christ. In that book there was no mention of any soot of a miracle.
Rammohan had said that Jesus Christ had no divine powers. This furied the Christians and they began to criticise him, because they also believed in following the rituals and customs of their fore-fathers as the Hindus. Christians were firm not to distract from the path as told by their fore-fathers. They were not ready to compromise in matter relating to religion.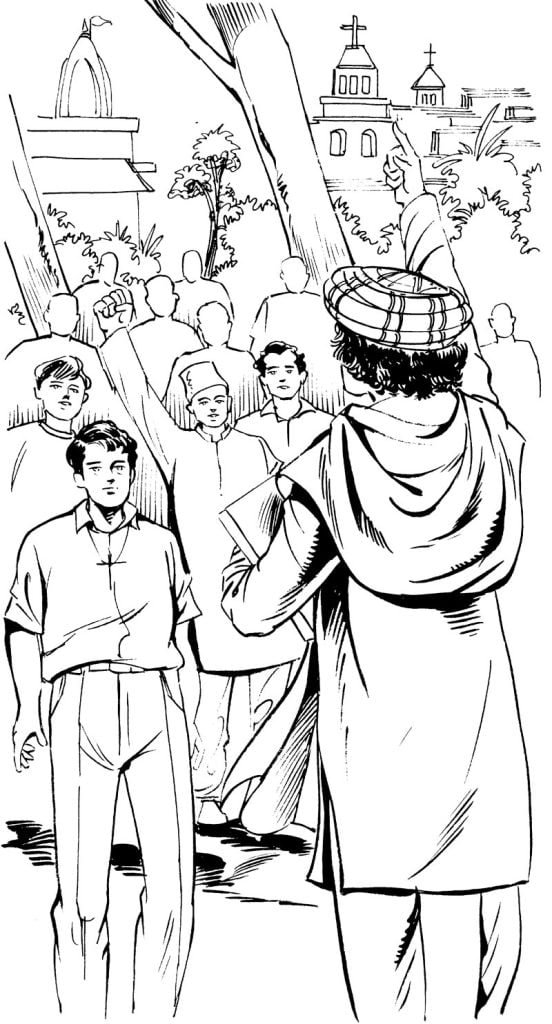 The Europeans had adopted the religious ceremonies to the core. This had been revealed by Rammohan through his articles for the first time.
European were very liberal towards their religion. According to Rammohan's viewpoint there was very less time left in modernisation of Europe as the Europeans were now awake whereas Indians were still asleep. They were happy with living in darkness.
The members of the missionaries were not able to understand the views of Rammohan. When the people of Hindu society were not able to understand his views then how could the members of the missionaries understand? The Hindus had started attacking him without understanding him. The Christian missionaries published a weekly newspaper 'Friend of India'. In this newspaper they named him the enemy of truth. They blamed him as an atheist and a person who did not believe in the Christian religion. After being blamed like this, Rammohan published a book titled—'An Appeal to the Christian Public'. In this book, he had criticised the views of those Christians. Those Christians had no counter answer to this and thus they were spell bound.
A Christian named Doctor Marshman expressed some views towards Rammohan only to remove his annoyance. But his views were baseless.
Rammohan had cleared it that a person is deflected form his path because of such baseless talks only. Now he also felt that Christianity was also approaching towards superstitions. Seeing this, he made up his mind to struggle against this also.
Now he was planning to make the Christians aware against such superstitions. As the way in which he was struggling against the superstitions prevailing in the Hindu society, in the same way, he also started struggling against the superstitions prevailing in the Christian society.
He had published two books through which he tried to remove the evil of superstition from the minds of the Christians. The facts in both the books were so authentic that even Doctor Lint Carpenter, after reading them, himself said—''Rammohan had written these book with sincere efforts and after deep research of the shastras. In these books, he has showed his intelligence and wisdom and has opposed in a very clear way the people who were responsible for pushing the Christian religious people towards darkness. Through his books, he had forced his criticisers to give up.''
Rammohan had the knowledge of almost all subjects. Due to his vast knowledge he never had any difficulty either in writing or in speaking on a particular subject. He had vast knowledge of the Vedas and the Upanishads as well as the Bible.
The way he publicised about the Christian authorities of religion through his books, he was severally criticised. Inspite of such criticism, some Christians were in his favour.
Rammohan was highly excited by this support. He did not see any kind of criticism in his supporters eyes. The Christians read his books very carefully. They were very much impressed by the views presented in his books. The impressed Christians had sent many letter of support to Rammohan. One letter was received by Rammohan in July 1821. This letter was published in the 'Calucutta Journal' newspaper. It wrote—
''Rammohan's book 'The Second Appeal to Christian Public' is praise worthy. The more we know about Rammohan, the more he will gain respect in our eyes. His works are based on truth, that is why everyone is displaying his belief in him. There is no fraud or folly visible in any of his statements. His personality is as clear as a mirror image.''
Rammohan wanted to convince the people that there is one greater thing than the sleep, and that is the light of knowledge. Inspite of listening to this, superstitious people were still asleep.
They never tried to know the facts about life. They were not interested in the essence of life and enlightenment because they were happy while sleeping. They considered enlightenment as a hindrance to their happiness.
They thought that this was being forced upon them. The Christians were not ready to prosper, whereas Rammohan was very keen to make them aware.